Who is Vicki?
About her: Very much enjoying the modeling scene. It is very challenging sometimes. I love anything with the Bionic Woman, Charlie's Angels, Santa Barbara the Soap Opera, The Reds, Vampires and of course Wonder Woman. very much into movies. Love musicals, fav is Phantom of the Opera, then Mamma Mia; Cats........but i really like watching new ones.
Identity: Victoria L. Ewing-Mullins (aka Wonder Woman)
Born: January 27 "She's an Aquarius " Lima, Ohio
Home Land: Wapakoneta home of Neil Armstrong
Costumes: Vicki's designer E. has made all her costumes with the exception of the first one and he can be Credited as E.
Description Green eyed blonde who stands at 5' 8"
Natural red head
Tattoos? Several from Shades of Grey here in Wapak
Piercings? Six
Favorite Movie: Helter Skelter, Halloween
Favorite TV Show: Birds of Prey on WB11 network and Glee (which is based in Lima Ohio) Big Brother
Favorite Actress: Marcy Walker
Favorite Actor: Sean Patrick Flannery
Favorite Song: "The change in me" by James Dunne & Jill Colluci (the Love song of Eden and Cruz from Santa Barbara)
Favorite Color Blue, but like Teal shades the best
Favorite Perfume any of the Sexy Collection from Bath and Body
Favorite drink: Moscato, but when I can't drink. I enjoy Coca Cola

NEWS: Vicki met Britta Phillips who was the singing voice for Jem, of the 80's cartoon. Britta now is the guitarist for Luna. She was in the movie Satisfaction (which is a terrific movie) Vicki would LOVE to meet Lynda Carter although she'd have no idea what to say to her? Speechless and in aw. She has also met Lou Ferrigno, Cindy Williams and Mike Lookinland from the Brady Bunch to name just a few!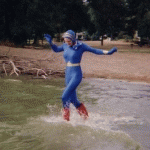 Vicki has COMPLETED the Wonder Woman diving outfit!
This sexy streamline spandex swimwear looks fantastic on Vicki. Click on the photo to see the new images of her!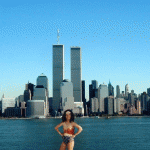 The 911 Tribute Series

The woods and the Paradise Island Photos series

The Return of Wonder Woman
If you wish to contact Vicki, you may do so directly by email her. She loves email from fans and personally answers all letters.
Vicki's Motto's:
You obviously have little regard for womanhood. You must learn respect.
In an ordinary world of mortals, you are a Wonder Woman.
Whatever the language, be honest, where I was brought up women were taught to respect honesty.
Women are capable of wonders, if only given the opportunity.
Women are the wave of the future; and sisterhood is stronger than anything!
No one can resist the golden lasso, it binds all who it encircles and compels them to tell the truth.
* FAQs about Vicki and how her whole Wonder Woman story unfolded into such a huge international internet success!
Wonder Woman burst into our lives in a swirling flash of light in the mid-1970s (picture Lynda Carter spinning around until a magical flash of light transforms her into the amazing Princess of Power), with the pilot episode of ABC's "Wonder Woman". Since then, Wonder Woman has always been one of my favorite female SuperHeroines, bar none. When I learned of Vicki Mullins via the Internet and what a dedicated fan she is to the Amazing Amazon I knew I had to contact her. Vicki is perhaps the only girl on the entire Internet who can really be compared or consider to be the real Wonder Woman other than Lynda Carter. I have seen others that have come close, but none show as much enthusiasm or authenticity as Vicki. Vicki made the Wonder Woman costume, lasso, headband, boots, EVERYTHING herself! Amazing time and detail went into this outfit!
Not just a Wonder Woman TV show or movie buff on the topic of Ms. Terrific, but Vicki actually makes public appearances in full costume spreading her warm positive attitude and influence to help others.
Vicki lives in the Midwest United States and is possibly the sexiest and most devoted Wonder Woman fans known today. If I had just 1 wish it would be to see Vicki and Lynda Carter side by side together in full costume for a posting autographed shot. I am so thankful Vicki sent me these photo's for all you fans to enjoy! Below are photos of Vicki in action portraying Wonder Woman. (I especially love the action photo's)
Ask Vicki:

A lot of fans want to know about Vicki. Who she is, and how the whole Wonder Woman persona has become a part of her life. In an email she has written, I hope this explains some of the frequently asked questions about her.

Well, as a child I guess I related to Wonder Woman because she was a not only a hero; but a woman here. And without going into a lot of detail in my childhood; due to lack of being boring and lack of time but; because sometimes a kid just needs a hero. I remember playing Wonder Woman with my aunt. She is four years older than I, and probably wouldn't want me to talk about this, so I didn't always get to be Wonder Woman. Sometimes I was wonder girl. I guess it wasn't so bad for at the time. I mean, it's not like I'm Debra Winger. I will always remember Lynda Carter as Wonder Woman, even though two other women played her before: Ellie Wood Walker in 64 and Kathy Lee Crosby in 74. One day I would love to meet Lynda Carter talk to her or something. It was fun being Wonder Woman. so I guess at a certain point as a child I stopped; but I never forgot.

Then as I grew up and was out on my own I could do what I wanted again I could continue all of that. During my current job, around Halloween almost ten years ago, we had dress up at work. I had been working on a Wonder Woman costume; so why not wear it. of course it was just for fun; but little did I know. I was voted on and I got a prize. so I thought why not do it at a costume party and go for a real prize. and I did. I made second prize that Halloween. I was impressed. Little by little each Halloween I made my costume better and got more into my character. The costumes I have are the ABC costume, CBS costume, the cape used for both outfits, the lilac island dress/toga, the Roy Rogers western outfit, and the newest one is the diving outfit then I just started doing it when it wasn't Halloween. I happened on website that had some Lynda Carter vhs tapes that I wanted to purchase. So I mentioned to the guy that I dressed as Wonder Woman for Halloween. He told me I should check out a website of a Mr. Rob Olivera. so I did. Rob really gave me the publicity and acknowledgment. With out him there wouldn't be a website know. Rob mainly did for Wonder Woman and Lynda Carter; but he put me up in there too. I'll never forget him and so appreciate everything he has done for me. I miss talking with you Rob. Rob went for such a long time with his site; and I must add that not only was this on his time but it was his money and his site. He totally promoted me. I guess that's why I feel so grateful to Antman for keeping on the tradition with his site. I love everything you have done for me as well Ant. and don't' ever stop! So, with the more and more fans coming in and asking for different poses and different stories I have met many people with whom I can call some friends. I have met with some people. such as Kiree.
Kiree you are always in my thoughts and prayers. I think of you often. I have also managed to pull some great friendships and confidants out of the Wonder Woman site.
To the Patriot, I know I don't stay in touch as much as we would like, but Wonder Woman is pretty busy. I hope everyone will enjoy the new photos and have enjoyed my acknowledgments. please always be good to each other.

Sincerely yours,
Victoria L. Ewing-Mullins (aka Wonder Woman)
Last Updated 2012 Visit her Facebook page for the latest information